Before our pest control professionals can control a termite infestation, they will have first to inspect your home or business. Even if you already know you have termites, we'll still have to perform a thorough WDO (Wood Destroying Organism) inspection. Why do we need to do that? Because termite infestations, more often than not, encompass several different areas of your home. In other words, you might know you have termites in one area, but unaware of termites somewhere else in your home.
During a termite inspection (also called a WDO, or Wood Destroying Organism inspection), our Sacramento termite control professionals will:
Generally, a termite inspection takes between 30 and 45 minutes to complete. However, that depends on the size of the home or business we're inspecting.
What Is A Wood Destroying Organism Inspection (WDO Inspection)?
A wood-destroying organism inspection (WDO inspection) is just a fancy term for a termite inspection. Most often, you'll need a WDO inspection in the following situations:
You suspect you have termites
You're planning on selling your home or applying for a mortgage, and the bank/lender requires a WDO inspection
WDO inspections don't only involve looking for termites. These inspections also look for evidence of wood decay, wood-eating beetles, damage to wood, and past WDO treatments.
Is Millennium Termite & Pest a Credentialed WDO Inspection Company?
Yes, Millennium Termite & Pest is an officially credentialed Wood Destroying Organism inspection company. We have received the necessary and continuing training, equipment, and insurance required to provide you with top-quality inspection services. So, if you've been looking for a credentialed and licensed WDO inspection company, then you've come to the right place.
Termite Treatment Options
Once our termite experts have inspected your home and determined the type of termites you have, it's time for termite removal in Sacramento. There are three different methods for exterminating termite infestations, and the method used depends on the type of termite infestation you have. Let's break down your treatment
options:
Fumigation
Fumigation is the process of covering your home or business with a tent and then filling the said tent with misted pesticides. Those pesticides will find their way into every nook and cranny in your building and eliminate any termites on the property. Fumigation is the recommended treatment method for wood-boring beetles, drywood termites, and dampwood termites. Unfortunately, and contrary to popular belief, fumigation (or "tenting") will not kill subterranean termites. If you have subterranean termites, then you'll need a combination of liquid spot treatments, bait treatments, and other methods.
The Sentricon Bait System
Another method for removing termites is the Sentricon Bait System. The Sentricon Bait System involves placing poisoned termite bait anywhere that worker termites feed. Then, the workers take the poisoned bait back to the colony to share with its colony mates. With repeated applications, the Sentricon Bait System will eradicate the infestation from the inside out. The Sentricon Bait System is the recommended termite removal method for
subterranean termites.
Liquid Spot Treatment
Liquid spot treatment termite removal in Sacramento involves applying pesticides to the colony and food sources directly. Spot treatments need to be applied regularly to remain effective. Spot treatments are best for small subterranean termite infestations.
Termite Repair in Sacramento
Termites cause nearly $5 billion in damages to homes and businesses every year. So, naturally, after we have eradicated your termite infestation, you'll need termite damage repair work.Luckily, the pest control experts at
Millennium Termite & Pest provides top-of-the-line termite repair in Sacramento. So, don't fret! From repairing any damaged wood to helping remove the colony itself, our termite damage repair experts have you covered!
Does That Include Dry Rot Repair From Termite Damages?
Yes, our termite repair services also include dry rot repair services for areas of your home affected by a termite infestation. In fact, we do dry rot repairs in Sacramento on an almost daily basis. Since we usually discover dry rot when we do our inspections, we often include dry rot repair with our termite inspection services. So, if you have dry rot due to a termite problem, then don't fret! Millennium Termite & Pest has you covered!
Our Sacramento Termite Company Handles Several Kinds of Termites
Termites cost home and business owners more than $5 billion in treatment and repair costs annually. And, to make things worse, there are several different types of termites in Sacramento. The most common ones are as follows:
Subterranean Termites
As the name suggests, subterranean termites live in underground colonies. They build tunnels called "mud tubes" to reach food sources and protect themselves from the environment. Subterranean termites prefer moist and secluded areas. Subterranean termites are the most destructive of the three common species around Sacramento.
To remove subterranean termites, our pest control professionals will use one or both of two different treatment options. The first option is to use the "Sentricon Baiting System," and the second option is a liquid pesticide treatment.
With the Sentricon Bait System, our pest control experts will lay down poisoned termite bait. The workers in the termite colony take the poisoned bait back to the settlement, which helps kill the queen and prevent reproduction.
With liquid treatments, our pest control professionals will apply pesticides to the colony and food sources to kill any termites on contact.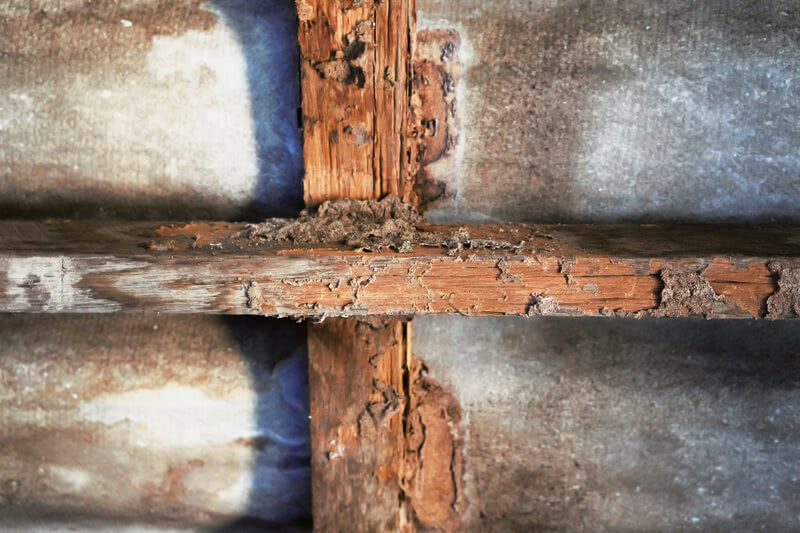 Drywood Termites
Unlike subterranean termites, drywood termites build their colonies above the ground and in dry areas. They
feed on any wood that they come in contact with. Drywood termites also rapidly spread by swarming.
The best treatment option for drywood termites is to fumigate your home or business. Fumigation is the better choice of treatment for drywood termites. It works well because of their proclivity to swarm and spread. Fumigation will destroy 100% of the termites in your home or business, which will, in turn, eliminate the entire colony and prevent reinfestation.
Dampwood Termites
As their name implies, dampwood termites make their colonies in water-damaged wood. Colonies include swarmers, soldiers, a queen, and young. Like drywood termites, dampwood termites swarm and spread with relative ease.
If you have a dampwood termite infestation, then treatment is a two-pronged operation. First, you need to spot-treat or fumigate the colony to kill any living termites. Then, the water-damaged wood where the termites made their home needs to be removed from your property. Generally, with dampwood termites, the Sacramento termite control professionals at Millennium Termite & Pest recommends ongoing and continuous treatment to prevent reinfestations.
Got Termites? Contact Millennium Termite & Pest – The Go-To Sacramento Termite Company
Termite infestations are no fun. They cause damage to your home and can cost thousands in repairs. So, if you have a termite infestation of any kind, then give us a call. Remember, when it comes to eradicating termites, Millennium Termite & Pest is the go-to Sacramento termite company! Contact us and schedule a termite inspection today!